BRIAN TUFANO BSC
Director of Photography
Recipient of the BSC Lifetime Achievement Award 2020
Special Jury Prize for Outstanding Contribution To British Film and Television - British Independent Film Awards 2002
Award for Outstanding Contribution To Film and Television - BAFTA 2001
Recipient of the BSC ARRI John Alcott Memorial Award 2015
EVERYWHERE AND NOWHERE
Director: Menhaj Huda.
Producers: Menhaj Huda, Sam Tromans and Stella Nwimo.
Starring Art Malik, Amber Rose Revah, Adam Deacon, Saeed Jaffrey
and Katia Winter.
Stealth Films.
ADULTHOOD
Director: Noel Clarke.
Producers: George Isaac and Damian Jones.
Starring Noel Clarke, Adam Deacon, Red Mandrell and Scarlett Johnson.
Limelight.
MY ZINC BED
Director: Anthony Page.
Producer: Tracy Scofield.
Starring Uma Thurman, Jonathan Pryce and Paddy Considine.
Rainmark Films/HBO.
I COULD NEVER BE YOUR WOMAN
Director: Amy Heckerling.
Producers: Philippa Martinez and Scott Rudin.
Starring Michelle Pfeiffer and Paul Rudd
Paramount Pictures
KIDULTHOOD
Director: Menhaj Huda.
Producer: Tim Cole.
Starring Aml Ameen, Adam Deacon, Red Mandrell and Jamie Winstone
Stealth Films/ Cipher Films
ONCE UPON A TIME IN THE MIDLANDS
Director: Shane Meadows.
Producer: Andrea Calderwood.
Starring Robert Carlyle, Rhys Ifans, Kathy Burke, Ricky Tomlinson and Shirley Henderson
Slate Films / Film Four
LAST ORDERS
Director: Fred Schepisi.
Producers: Rachel Wood and Elizabeth Robinson.
Starring Michael Caine, Bob Hoskins, Tom Courtenay, Helen Mirren and Ray Winstone
Scala Productions
LATE NIGHT SHOPPING
Director: Saul Metzstein.
Producer: Angus Lamont.
Starring Luke De Woolfson, James Lance, Kate Ashfield, Enzo Cilenti and Shauna MacDonald
Film Four Intl / Ideal World Films
Evening Standard British Film Nominaton for Outstanding Technical Achievement
BILLY ELLIOT
Director: Steven Daldry.
Producers: Jon Finn and Gregg Brenman.
Starring Julie Walters, Gary Lewis, Jamie Draven and Jamie Bell
Working Title Films/Tiger Aspect Pictures/ BBC/Arts Council Film
BAFTA Nomination for Best Cinematography
EAST IS EAST
Director: Damien O'Donnell.
Producer: Leslee Udwin.
Starring Linda Bassett and Om Puri
Film Four / Miramax
ALIEN LOVE TRIANGLE
Director: Danny Boyle.
Producer: Andrew MacDonald.
Starring Kenneth Branagh, Courtney Cox and Heather Graham
Dimension Films
TRAINSPOTTING
Director: Danny Boyle.
Producer: Andrew MacDonald.
Starring Ewan McGregor, Robert Carlyle, Johnny Lee Miller & Ewan Bremner
Film Four International/Figment Films
Voted #10 in the top 100 Best British Films of the Last Century
A LIFE LESS ORDINARY
Director: Danny Boyle.
Producer: Andrew MacDonald.
Starring Ewan McGregor, Cameron Diaz, Holly Hunter & Ian Holm
Figment Films/Film Four International
SHALLOW GRAVE
Director: Danny Boyle.
Producer: Andrew MacDonald.
Starring Chris Eccleston, Ewan McGregor and Kerry Fox
Film Four International/Figment Films
BAFTA Scotland Award for Best Feature Film
TRUE BLUE
Director: Ferdinand Fairfax.
Producers: Clive Parsons & Davina Belling.
Starring Johan Leysen and Dominic West
Film and General Productions
Chosen for the Royal Film Performance
QUADROPHENIA
Director: Franc Roddam.
Producers: Roy Baird and Bill Curbishly.
Starring Phil Daniels, Sting, Mark Winget, Toyah Wilcox and Leslie Ash
Polytel Films. Re-released January 1997
THE LORDS OF DISCIPLINE
Director: Franc Roddam.
Producers: Herb Joffe and Gabrielle Katzka.
Starring David Keith, Michael Biehn and Robert Prosky
Paramount Pictures
WAR PARTY
Director: Franc Roddam.
Producer: Bernie Williams.
Starring Kevin Dillon, Billy Worth and Bill McKinney
Hemdale
DREAMSCAPE
Director: Joe Ruben.
Producers: Bruce Cohn Curtis and Jerry Tokofsky.
Starring Dennis Quaid, Max Von Sydow and Kate Capshaw
20th Century Fox
BLADE RUNNER
(ADDITIONAL PHOTOGRAPHY)
Director: Ridley Scott.
Starring Harrison Ford
Warner Brothers
MIDDLEMARCH
Director: Anthony Page.
Producer: Louis Marks.
Starring Douglas Hodge, Juliet Aubrey, Robert Hardy, Sir Michael Hordan and Patrick Malahide
BBC
BAFTA Nomination for Best Cinematography
OTHER WORK INCLUDES:-
WINDPRINTS
David Wicht
ENDLESS GAME
Bryan Forbes
MURDER IS EASY
Claude Watham
EMMY Nomination for Best Photography
THE WALL
Bob Markowitz
RIDING HIGH
Ross Cramer
THE WATERLOO BRIDGE HANDICAP
Ross Cramer
THE SAILOR'S RETURN
Jack Gold
SHE FELL AMONG THIEVES
Clive Donner
THE PRICE OF COAL
Ken Loach
ROGUE MALE
Clive Donner
ARNHEM, THE STORY OF ESCAPE
Clive Rees
Royal Television Society Award - Best Photography
PLAYTHINGS
Steven Frears
THREE MEN IN A BOAT
Steven Frears
DAFT AS A BRUSH
Steven Frears
SUNSET ACROSS THE BAY
Steven Frears
THE EVACUEES
Alan Parker
BAFTA and EMMY Award - Best Film Director
BAFTA and EMMY Nominations - Best Photography
ROBINSON CRUSOE
James McTaggart
DIAL M FOR MURDER
Gerry Blake
ON THE HIGH ROAD
Karel Reisz
THE CHEVIOT, THE STAG AND THE BLACK BLACK OIL
John Mackenzie
AN IMAGINATIVE WOMAN
Gavin Miller
THE WITHERED ARM
Desmond Davis
GIRLS IN THEIR SUMMER DRESSES
Clive Rees
THE ENEMY WITHIN
Les Blair
BLOOMING YOUTH
Les Blair
SPEECH DAY
John Goldschmidt
BOUNCING BOY
Maurice Hatton
ARTURO UI
Jack Gold
STOCKERS COPPER
Jack Gold
BAFTA Award - Best Film Director
WALT, KING OF THE DUMPER
Jack Gold
THE LIE
Alan Bridges
BAFTA Award - Best Film Director
SEARCH FOR THE NILE
Fred Burnley
Nomination for EMMY Award - Best Photography
ALL MY OWN ARMY
Michael Tuchner
SCOTT FITZGERALD (A DREAM DIVIDED)
Fred Burnley
BAFTA Award - Best Film Director
MRS LAWRENCE WILL LOOK AFTER IT
John Mackenzie
THE WORLD OF COPPARD
Jack Gold
COMMERCIALS:

DIRECT LINE INSURANCE
Dir:
Tom Vaughan
PIZZA HUT
Dir:
Tom Vaughan
BRUSCHETTERIA
Dir:
Jackie Oudney
WARBURTONS
Dir:
Jackie Oudney
MARKS & SPENCER
Dir:
Lucy Blakstad
BENECOL
Dir:
Lucy Blakstad
THE SUN
Dir:
Shane Meadows
NAT WEST
Dir:
Shane Meadows
BIG YELLOW STORAGE
Dir:
Brian Kirk
BARCLAYCARD
Dir:
Shane Meadows
MATALAN
Dir:
Clare Lloyd
COI
Dir:
Lucy Blakstad
HORNBACH
Dir:
Peluca
PLAYSTATION
Dir:
Ed Morris & James St. Clair
CHICAGO PIZZA HOUSE
Dir:
Jim Hosking
THE OBSERVER
Dir:
Scott Vincent
MECCA BINGO
Dir:
Anthony Easton
BUDWEISER
Dir:
Peluca
AA INSURANCE ONLINE
Dir:
Barney Cokeliss
PERSIL
Dir:
Mike Stephenson
WALKERS
Dir:
Paul Weiland
AERO
Dir:
Vince Squibb
THE ARMY
Dir:
Paul Gay
THOMPSONS
Dir:
Simon Drewitt
McDONALDS
Dir:
Paul Gay
FROLIC
Dir:
Brian Bayderman
EVEREST
Dir:
Simon Drewitt
ASK JEEVES
Dir:
Simon Drewitt
RAC
Dir:
Simon Drewitt
AFTER EIGHTS
Dir:
Jeff Stark
LOTTERY
Dir:
Pat Holden
WHEETOS
Dir:
Menhaj Huda
SPONTEX
Dir:
Carl Prechezer
HEINEKEN
Dir:
Graham Rose
AMARETTO DISARONO
Dir:
Menhaj Huda
IGGY POP

 

(promo)
Dir:
Danny Boyle
FRANCE TELECOM
Dir:
Keva Rosenfeld
ELMLEA YOGHURT
Dir:
Paul Gay
LEVI'S
Dir:
Reeves & Gay
IBM PS/2
Dir:
Rocky & ; nabel Jenkel
HEWLETT PACKARD

 

Laser Printer

Dir:
Gary Johns
NISSAN TRUCKS
Dir:
Paul Boyington
BMW
Dir:
John Sinclair
MERCEDES BENZ
Dir:
John Sinclair
DERBY COLOGNE
Dir:
Tony Scott
HAWAII PROMOTION
Dir:
Gary Jones
MCI PHONES COSTS
Dir:
Jeff Gorman
MILLER LITE BEER
Dir:
Angel City
NATURAL PLUS
Dir:
Franc Roddam
CADBURYS HIGH LIGHTS
Dir:
Syd Macartney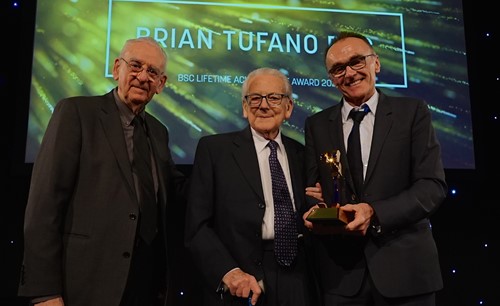 (l-r) Phil Méheux, Brian Tufano & Danny Boyle. 
Photo ©Richard Blanshard